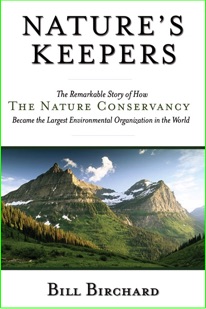 THE STORY OF THE NATURE CONSERVANCY
Want to know what makes the nation's largest environmental group tick? Nature's Keepers, by Bill Birchard, reveals the genius of the Nature Conservancy through the stories of nine remarkable conservationists.
In 1951, the Nature Conservancy incorporated in Washington, D.C. Since then, it has grown to 3,500 staff with revenues of $800 million. Each year it protects more than a million acres of land in the U.S. and 28 countries.
In many ways, the Conservancy is a model for other organizations -- but its story also reveals the tough lessons of people working on the edge, lessons learned by risk-taking entrepreneurs living a life that counts.
Click for Chapter 1 free download (600kb)
PRAISE
"It's about time the business of conservation got this kind of attention." – Jon Christensen, Conservation in Practice.
"...a compelling narrative covering more than half a century..." – G. Tracy Mehan III, The Weekly Standard
"...a remarkable book about a remarkable organization." – Tom Peters, author, In Search of Excellence
"...wonderful, fresh, and provocative insights." – Executive Update Online
Buy Book From
Quick Links