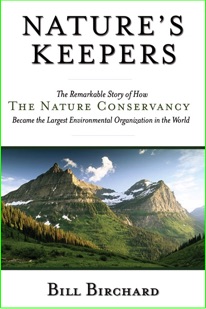 THE STORY OF THE NATURE CONSERVANCY
Chapter 7: More Than the Sum of the Parts
When John Sawhill took over as president of the Nature Conservancy in 1990, he had much in mind an axiom often recited by management guru Peter Drucker: "Whom the gods would destroy, they first give forty years of success." The Conservancy, born when fifty people voted to adopt the name in September 1950, had chalked up numbers that rang the bell of success: 533,000 members, operations in forty-seven states and eleven countries, annual gifts of $110 million, land protected from destruction in the United States alone: 3.5 million acres.
But the Conservancy was in its fortieth year, and Sawhill saw that the gods had reason to be rubbing their hands with anticipation.
The preceding year, the blue-chip consulting firm McKinsey & Co. had issued a critical report based on interviews with fifty Conservancy staff members. The conclusions: Fundraising was bogged down, staff in state offices thirsted for guidance, administrative systems strained at capacity, and headquarters and regional offices were top-heavy, manned with roughly one person for every two in the field. When it came to vision, management style, fundraising, and accounting, the Conservancy—as rated by McKinsey with Consumer Reports–style icons—needed "major improvement."
Sawhill was the board's choice as fix-it man. His predecessor, Frank Boren, had run with his instinct to decentralize and force authority to the field. He had nurtured an egalitarian air and sense of "family." The Conservancy had grown rapidly, and many on the staff loved Boren for his style. But the family had gotten much bigger and more contentious. And the board worried that the organization was becoming fragmented. So the governors sought an outsider—and only an outsider—who could tighten administration and raise lots of money. Sawhill was the man tapped to rework support systems, build unity, and spur further growth.
To many board members, the problems Sawhill faced surfaced at home. In Oklahoma, Joseph Williams, chairman of Williams Companies and the volunteer leader behind efforts to save two ranches blanketed with tall-grass prairie, chafed at the poor service from headquarters. When the state office had a question about buried contaminants, it took six weeks to get an answer instead of days. When it wanted financial reports, it got them two to three months after the events, well after the numbers were needed for decision making.
McKinsey's interviews detailed the mess: "The financial and accounting systems are a nightmare because they are antiquated and backlogged," said one employee quoted by the consultants. "How can they expect us to plan and manage if we don't get timely reports?" asked another. "I had a check lost for two months. . . . It was sitting on someone's desk," complained a third. Conservancy headquarters should offer more leadership, pursue projects that cut across state borders, improve the field's effectiveness, and capture efficiencies, McKinsey maintained.
Sawhill, fresh from McKinsey himself, shocked the staff. Many could hardly believe the board had hired someone from Corporate America. Sawhill, a generation older than most Conservancy managers, had run McKinsey & Co.'s energy practice for ten years, where his patron saint was Marvin Bower, McKinsey's eighty-seven-year-old patriarch, often called the father of modern management consulting. Bower championed professional management, rigorous systems, and standardized practices. He favored long-term thinking and eschewed "ad hoc management," that is, making things up one crisis at a time—as in growing organizations like the Conservancy.
Under Bower, McKinsey became known for settling for nothing but the best, challenging the client's opinion, finding the root problem by interviewing everyone, understanding the unique clockwork in each firm, and not leaving the office until the job was done—no matter what the hour. People claimed that more veterans of McKinsey went on to become CEOs than veterans from any other firm save General Electric.
At McKinsey, Sawhill kept a six-day-a-week schedule. His secretary, Ann Fouke, handed him a stack of mail, money, and a plane ticket each Saturday. She heard from him again, by phone, on Monday. He called before boarding the plane, after deplaning, and before and after his meeting. If she had phone messages, he would sometimes memorize two or three numbers, make the calls, and because he almost never had a pencil at hand, write the numbers down when he called again later. If she had urgent letters, she read them and he dictated an answer.
Sawhill allowed neither himself nor his people breathers. One McKinsey colleague, Les Silverman, often worked nights and weekends to prepare presentations. After a long day working with a client, the two would breathe a sigh of relief as they descended on the elevator. But by the time they got in a cab, Sawhill would invariably remark they were already behind for the next week's meeting. "Give me a break!" Silverman would think. But he came to respect Sawhill's habit, always thinking about the next hurdle, not patting himself or anyone else on the back.
Silverman marveled at how Sawhill seemed fearless in making commitments to win over clients. Talking with the chief of refining at one major oil company in the 1980s, Sawhill claimed that McKinsey had useful insights on refining. Sawhill himself had no idea what those insights might be, but he seemed to figure someone at McKinsey always knew something about anything. Once they left the office, he told Silverman to call a few people. "Give me something smart to say," he said, as he always did at such times. He was a quick study, and on the way to a client's office later on, he would read a report, digest the nuggets, and in minutes glibly deliver insights with a personalized flair.
Sawhill arrived at the Nature Conservancy at fifty-three, a trim man, a former wrestler at Princeton, with a swath of dark hair combed across his forehead. He always wore a suit and tie and dedicated every lunch to business. Nobody on the staff could tell if he cared about conservation—he had earlier taught economics at New York University, had bailed the university out of red ink as its president from 1975 to 1979, and served as deputy secretary of the Department of Energy under Jimmy Carter. But they knew he had a glittering track record in management. At McKinsey, he had boosted energy-unit revenues by 30 percent a year, year in and year out, and his success earned him a seven-figure salary.
At his first Conservancy board meeting, on March 3, 1990—three weeks before he began work—Sawhill was already hot on the Conservancy's case. Instead of general comments, he specified six priorities: "sharpen the Conservancy's mission; launch the capital campaign already on the drawing board; increase public awareness of the Conservancy; improve management systems; build the international program; and build strong links between state chapters and headquarters."
The governors liked what they heard so early on. Sawhill knew what it took to corral willy-nilly growth and restore order and unity to an organization. When it came time to discuss whether to amend the bylaws to name him, as president, to the board, the governors readily agreed—the first time in Conservancy history the president was made part of the Conservancy's governing body. The board viewed Sawhill as the epitome of the professional manager...
Copyright © 2005 by Bill Birchard
Buy Book From
Quick Links